Fun Crafts to Do!!
---
Super Kids' craft because it teaches them to sand, seal and trace so they will have the basics to go
further with later. After the prep-work is done, they simply paint, outline with marker (or paint) and
varnish. Shading and strokework can be introduced into this project.
Craft Tree carries a full line of paint brushes, acrylic paints, water colour paints, stamps & accessories, lamp works, ribbon, lace, yarn, DMS floss, silk and dried flowers.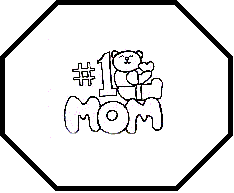 INSTRUCTIONS:

1. Prepare wood by sanding, wiping with tack cloth and coating completely with Gesso.

2. Trace pattern onto wood with tracing paper and stylus.

3. Paint as follows: Basecoat just to edge of front surface with Snow White. Paint first
ridge with Holly Berry, next ridge with Blue Mist, and sides with Soldler Blue.

'1' and heart with Holly Berry
Bear face, arm, leg with Fawn
'#', cuff on shorts, and strip on sleeve with Soldler Blue
Shorts in Blue Mist
Letters 'MOM' with Sunlight Yellow.

4. With a marker (or black paint) draw in nose, eyes, and mouth, and outline
everything (especially shirt, which is white).

5. Apply a few coats of varnish.



MATERIALS:

3.5 X 5.5" Wood Plaque (#14758 'Clipped')
Sand Paper, fine 220-grit (#20042)
Tack Cloth (#14414
Gesso by Palmer (#11370)
Tracing Paper (#14575)
Prism Acrylic Craft Paint (#11233):
Snow White (#0103)
Holly Berry (#1003)
Blue Mist (#2403)
Soldler Blue (#2603)
Fawn (#2803)
Sunlight (#1103)
Delta Gloss Varnish, 2oz. (#11284)

---
Send your mail to: realkids@hotmail.com