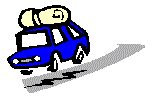 Car Travel With Preschoolers
---
Boredom and restlessness can be overcome with games, toys and books. Toys should not be sharp-edged, hard or heavy, nor should they be stored on the rear window ledge where they can become "flying" missiles if a sudden stop is required. Pack a travel kit with such items as new books, crayons, colouring books, finger puppets, magnetic marking boards and sticker books.
 SUGGESTED GAMES
· Window Wonders (1-2 yrs.). Look out the window and talk about what you see. Make animal
noises, car noises, etc. Let the child wave at other cars.
· Simon Says (2 and up). Parent moves a body part (eg. hands on head) and says, "Simon says, put your hands on your head." the child imitates. This gets stiff muscles moving.
· Counting Games (3 and up). Count anything and everything that you see, eg. blue cars.
· I Spy (3 and up). "I spy with my little eye something that is..." Describe or have children describe
something they see while you guess.
· Story Telling. Let each person in the car tell one sentence of a story. The adult can start and each person adds a new sentence. Vary the difficulty with the age of the child.
· Tape Recorder. Bring along a variety of tapes for your car tape deck or bring a lightweight tape
recorder. Very relaxing for children.
Courtesy of Oxford Community Child Care

· The Alphabet Game. This is a favourite in our family and one the older kids can play. Find the
complete alphabet starting with the letter "A." Look at all the signs (highway, stores, etc.). The fun
starts when they have to find the letter "q" or "x" and "z." The object is to find all the letters (in
order) before you get to your destination. Moms and Dads will have fun helping too.
The Publisher of Real Kids!  
---
---
Send your mail to: realkids@hotmail.com